GÓRSKIE WYCIECZKI, A WYBÓR OBUWIA
2023-08-17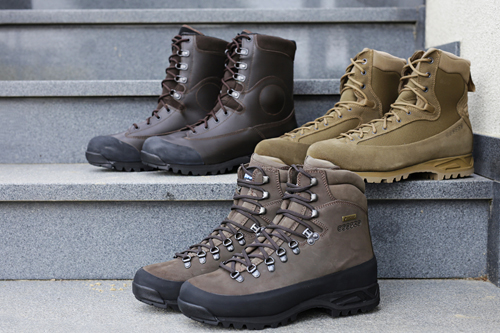 Czy zdarzyło Ci się wybrać nieodpowiednie obuwie na pieszą wycieczkę w góry?
Prawdopodobnie każdemu z nas przytrafiła się taka sytuacja. Mamy swoją ulubioną parę obuwia na co dzień. Jednak tereny górskie wymagają nieco bardziej specjalistycznych butów. Dobrze dobrana para butów sprosta skalistym ścieżkom, ostrym kamieniom oraz wspinaczce po stromych zboczach. ArmyWorld.pl oferuje szeroki przekrój butów górskich, producentów tj. Haix, Meindl, Lowa itp., zaprojektowanych specjalnie by chronić stopy przed zagrożeniami na jakie są narażane.
Must-have obuwia górskiego
Duże wysokości sprzyjają zmiennej aurze na szlaku. Membrana, najczęściej Gore-Tex to nieodłączny element butów górskich. Nagły deszcz lub śnieg potrafi uprzykrzyć wędrówkę. Chodzenie w mokrych butach z pewnością nie jest przyjemne oraz wskazane. Zazwyczaj w tytule oferowanego modelu informujemy o rodzaju zastosowanej membrany. Sam zdecyduj :)
Twarda, antypoślizgowa podeszwa odseparuje stopę od licznych bodźców, które fundują ostre skały czy kamienie. Ponadto odpowiednio głębokie żłobienia podeszwy pozwolą na bezpieczne przejścia stromych czy błotnistych szlaków. Zadbaj o to by pokonanie wielokilometrowego szlaku było przyjemne.
Dobór buta do szlaku
Tereny górskie są bardzo zróżnicowane. Jeśli wybierasz się w niskie, mało skaliste góry latem, powinny wystarczyć Ci lekkie buty trekkingowe o półtwardej podeszwie. Warto też zwrócić uwagę na usztywnienie pięty pod kątem indywidualnym. Kolejnym aspektem letnich wędrówek jest przewiewność buta. Brak tej cechy przyczyni się do nadmiernej potliwości, a w niektórych przypadkach będzie powodem puchnięcia stóp.
Wyższe szczyty = buty bardziej masywne z wyższą cholewką, membraną oraz otokiem ochronnym pozwalającym na założenie raków zimą.
W sezonie zimowym zawsze wybieramy buty wysokie, za kostkę. Konstrukcja taka zapobiega dostawianiu się śniegu do środka, stabilizuje staw skokowy w wymagających warunkach oraz zapewnia dodatkową ochronę termiczną.
Niskie czy wysokie?
Ta zasada jest prosta. Jeśli jesteście amatorami, wybierajcie buty z wysoką cholewką na wymagające szlaki. Stawy, mięśnie i ścięgna nie są przystosowane do aktywności po górach. Wysoka cholewka zabezpiecza stopy przed urazami tj. skręcenia czy zwichnięcia. Buty wysokie to konieczność w trakcie wędrówek zimą.
Buty niskie pozwalają na większą swobodę i szybszy chód. Mniejsza waga obuwia zmniejsza zmęczenie stóp. Taki typ butów wybierany powinien być na krótsze dystanse oraz łagodne tereny i pogodę przez osoby zaczynające przygodę z górami.
Sklep ArmyWorld.pl oferuje mnóstwo wysokogatunkowych butów przeznaczonych w tereny góskie. Znajdziesz u nas znakomitą, włoską markę Cosmas, bestsellerowe obuwie Haix czy wojskowe buty górskie.
Recommended
214,02 € - 256,65 €

incl. VAT