LEKKOŚĆ, WYGODA I KONTAKT Z NATURĄ
2023-06-28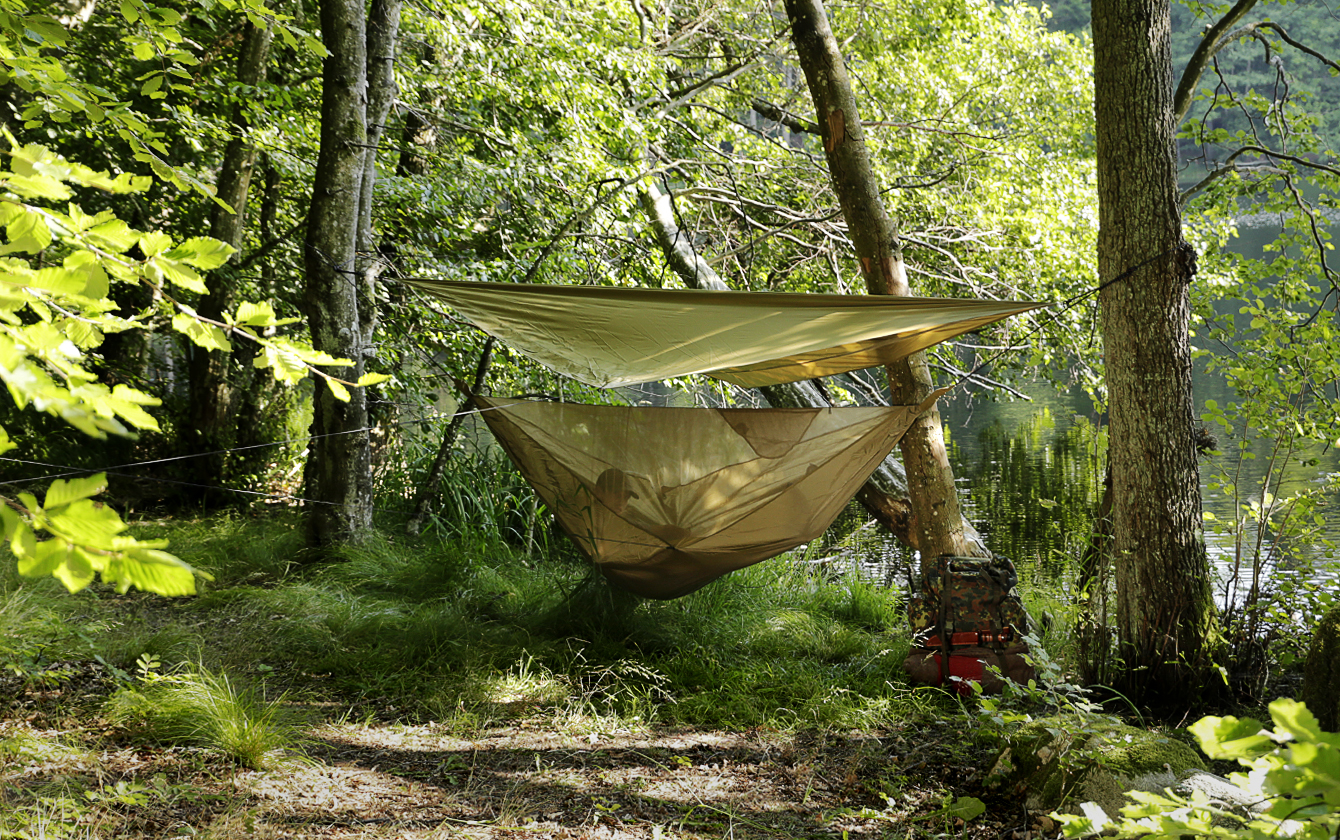 Start biwakowanie! Podczas odpoczynku na łonie natury towarzyszy Ci klasyczny namiot czy hamak?
Hamak to zapewne najlżejsze rozwiązanie pod względem spania na dziko. Waga oraz objętość jest kilkukrotnie mniejsza od namiotu. Hamaki w ofercie Armyworld.pl cechują się niesamowitą lekkością, a zarazem wytrzymałością. Wysokiej jakości sploty materiałów gwarantują udźwig nawet do 250 kg, przez co hamak może być 2 lub 3 osobowy. Hamaki w mniejszym stopniu wpływają też na środowisko, bo przecież nie odciskają trawy i innych roślin, nie pozostawiasz po sobie żadnych śladów :) Nocując w hamaku masz też pewność, że żadne pełzające zwierzątko nie wtargnie Ci do śpiwora.
A co z komarami? Dodatkowym elementem, który w zależności od modelu przeważnie znajduje się w komplecie to moskitiera. Gęsta siatka chroni przez ukąszeniami i uporczywymi muszkami oraz gwarantuje swobodny przepływ powietrza. Wypoczynek w wysokich temperaturach nie musi być udręką. Poznaj kilka naszych modeli hamaków, a jeśli brakuje Ci tylko moskitiery dokup ją osobno, bez konieczności wymiany ulubionego legowiska.
Na komfort odpoczynku wpływa również sposób zamocowania. Kluczowym elementem jest odpowiednie naciągnięcie hamaka, nie może zostać powieszony zbyt luźno. Ciało w trakcie wypoczynku nie powinno przypominać "banana", na dłuższą metę nie będzie to wygodne. Boki źle zamontowanego hamaka w zaciskają się do środka i ograniczają widoczność, a przecież nie o to chodzi, prawda? Zalecane jest ułożenie się "po brazylijsku", czyli ukośnie względem osi hamaka ok 10-20°, dzięki czemu pozycja naszego ciała będzie bardziej pozioma. Podczas spania w hamaku Twoje ciało nie jest zmuszone do ułożenia się pod kształt gleby, a jest ono swobodnie ukształtowane na wiszącym łóżku.
Staraj się korzystać z hamaka bez butów. Ostre bieżniki obuwia mogą narazić Twój materiał na uszkodzenia lub zabrudzenia. Przechowuj je bezpiecznie, powieś obuwie za sznurówki przy hamaku.
Czy biwakowanie w hamaku jest możliwe tylko w ciepłe dni?
Faktem jest, że nocleg w hamaku latem jest bardziej przyjemny. Hamaki są popularne na cieplejsze pory roku, gdyż zapewniają lekkość, wygodę i kontakt z naturą. 
Spanie w hamaku zimą może być wyzwaniem, ponieważ wystawienie się na niskie temperatury i wiatr może powodować wychłodzenie organizmu. Odpowiednie przygotowanie i sprzęt mogą jednak umożliwić sen również w chłodniejszych warunkach. Producenci dbają o Twój komfort snu w chłodne pory roku udoskonalając ofertę podpinek i otuli. Dodatkowa warstwa pomaga w utrzymaniu ciepła. Podpinkę montuje się od spodu hamaka w celu izolacji termicznej. Właściwa ochrona od zimnych wiatrów zapewnia ciepły i przytulny sen. Otul czy podpinka może posłużyć także jako kołdra lub koc. Istotne jest również miejsce rozwieszenia hamaka. Wybierz teren zaciszny i zabezpieczony przed wiatrem, unikaj obszarów narażonych na duże ochłodzenie.
Drzemka w hamaku zimą jest możliwa, ale wymaga odpowiedniego przygotowania i sprzętu. Śpiwór, karimata oraz tarp na pewno znajdą się na liście. Ważne jest, aby wybrać odpowiedni śpiwór o słusznym stopniu ciepła. Dobrać należy również dodatkowe warstwy odzieży, które pomogą zachować komfort ciała. Termiczne ubrania, kurtki, czapki i rękawice, pomogą w utrzymaniu ciepła podczas snu. Wychłodzeniu od spodu zapobiega używanie maty lub koca termicznego, należy zabezpieczyć się przed chłodem napływającym z ziemi. Ochronę przed wiatrem i dodatkową izolację gwarantują też płachty biwakowe. 
Osłona rozwieszona wokół hamaka, chroni przed wiatrem, deszczem, promieniami słonecznymi, liśćmi czy igłami spadającymi z drzew. Tarpy wykonane są najczęściej z poliamidu lub nylonu wzmacnianego splotem ripstop i charakteryzują się wiatroszczelnością oraz wodoodpornością. 
Gdzie przechowywać plecak podczas wypoczynku? Opcji jest kilka. Po prostu na ziemi, na gałęzi drzewa, w otulu,  za pomocą dodatkowego karabińczyka lub bezpośrednio w hamaku. Najlepszym pomysłem jest jednak wygodny "bagażnik" na sprzęt. Praktyczny i ultralekki mini-hamak pomieści i ochroni plecak, buty, książki czy żywność.
Dlaczego spanie w hamaku w lesie może być atrakcyjną opcją dla wielu osób?
Spanie w lesie daje możliwość bliskiego kontaktu z przyrodą. Ciesz się śpiewem ptaków, szumem drzew i zapachem lasu. To doświadczenie może być relaksujące i terapeutyczne.
Hamak zapewnia swobodę w wyborze miejsca do spania. Możesz go rozwiesić praktycznie w dowolnym miejscu, gdzie masz odpowiednie drzewa lub inne stabilne punkty mocowania. Nie jesteś ograniczony przez nierówny teren czy kamienie, tak jak w przypadku namiotu. Hamaki są znane z wygody i lekkości. Niewygodne nierówności terenu idą w niepamięć. Hamaki są zazwyczaj łatwe do przenoszenia i pakowania, co jest szczególnie przydatne podczas podróży.
Hamak może stanowić pewną ochronę przed niektórymi zwierzętami, takimi jak owady czy małe ssaki. Zawieszenie hamaku na pewnej wysokości może utrudnić dostęp tym stworzeniom.
Kiedy zdecydujesz się spać w hamaku, możesz podziwiać nocne niebo i gwiazdy bez przeszkód. Brak sufitu czy ścian w hamaku pozwala na pełne doświadczenie nocnego nieba.
Należy jednak pamiętać o bezpieczeństwie i odpowiednim przygotowaniu. Przed wybraniem się na nocny sen w lesie w hamaku, upewnij się, że masz odpowiedni sprzęt, w tym odpowiednie mocowania, izolację termiczną i śpiwór. Ważne jest również, aby mieć świadomość lokalnych przepisów i regulacji dotyczących spania na dziko oraz przestrzegać zasad minimalnego wpływu na środowisko naturalne.
Bogata oferta hamaków i akcesoriów renomowanych marek pozwoli dobrać Tobie sprzęt idealny na wyprawę!