Backpack 100 Liters Teesar Mil-tec Miltacs New
The backpack with a capacity of 100 liters manufactured by Teesar brand. Made of 100% nylon, additionally polyurethane coated to provide high waterproofness. Ex-display, new product.
Safe shopping
Easy and fast
Courier / Post we ship abroad
Attractive wholesale offer,
check
17 years of experience
Only original products
FAQ

Features:
waterproof and durable material,



main compartment with a capacity of 80 liters,


two big, detachable side pockets,

attached waterproof cover,

ergonomic shoulder straps with D-ring,

elastic and adjustable chest strap with with quick release fastener




thick padded, adjustable hip belt with additional pocket, zipper and carabiner,

thick padded back with a frame,

carrying handle in the upper part of the backpack,

compression straps at the bottom,

various loops,

upper part polyutherane coated, separated with a chimney,




three compartments of the backpack are are independently accessible from the outside for easy access to the interior of the backpack, 

chimney with drawcord covered with a flap with a plastic buckle,

hydratation pocket with hidden grommet.
Diemnsions: 80 x 30 x 50 cm.
Capacity: 100 liters.
Opinions about Backpack 100 Liters Teesar Mil-tec Miltacs New
5.00
Number of opinions issued: 1
Click a rating to filter reviews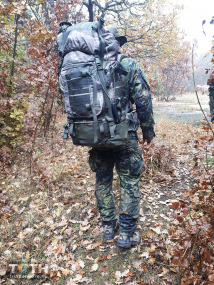 Really large, strong and comfortable backpack. Easy to carry with a heavy loads, no compromise for any packing situation. Many clever settling with straps, buckles and pockets. Priority of usability and fastness. Very good choice if you are going for a long journey through a hard terrain and carrying a heavy gears!