Nóż Taktyczny BÖKER® MAGNUM Dark Lifesaver Nowy
Nóż wyprodukowany przez renomowaną firmę BÖKER® z wysokiej jakości materiałów. Jego głownia wykonana jest ze stali nierdzewnej 440A. Nóż posiada skuteczne i odporne na rdzę ostrze.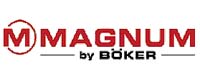 Safe shopping Easy and fast Courier / Post we ship abroad Attractive wholesale offer, check
You have a problem ?
Find the answer
Nóż wyposażony jest w blokadę Liner Lock, która zabezpiecza głównię przed niekontrolowanym złożeniem się bądź rozłożeniem. U dołu noża znajduje się ostry zbijak, który poradzi sobie z każdą szklaną powierzchnią. 
Nóż nowy, powystawowy.
Cechy:
Długość głowni: 95 mm

Grubość ostrza: 3 mm

Stal: 440A

Długość całkowita: 225 mm

Waga: 203 g
Ask for this product
Write your opinion