Tactical Knife BÖKER® MAGNUM BLACK FD New
Knife Black USN Seals produced by BÖKER® company with high quality materials. The blade (drop point type) is made of 440 stainless steel, which is coated with an anticorrosive and non-reflective layer.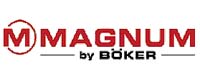 Safe shopping
Easy and fast
Courier / Post we ship abroad
Attractive wholesale offer,
check
17 years of experience
Only original products
FAQ
The 440 stainless steel blade is locked by a linerlock mechanism. Bilateral peg placed on the back of knife blade makes knife use easier for right-handers and left-handers. Includes a glass breaker at the handle end and a belt cutter.
Comes with convenient pocket clip.
Features:
Total length: 22,5 cm

Blade length: 10 cm

Weight: 133g
A knife
placed
in an elegant
metal box
.
Ask for this product
Write your opinion