HOW TO TAKE CARE OF USED COMMODITY?
2022-01-20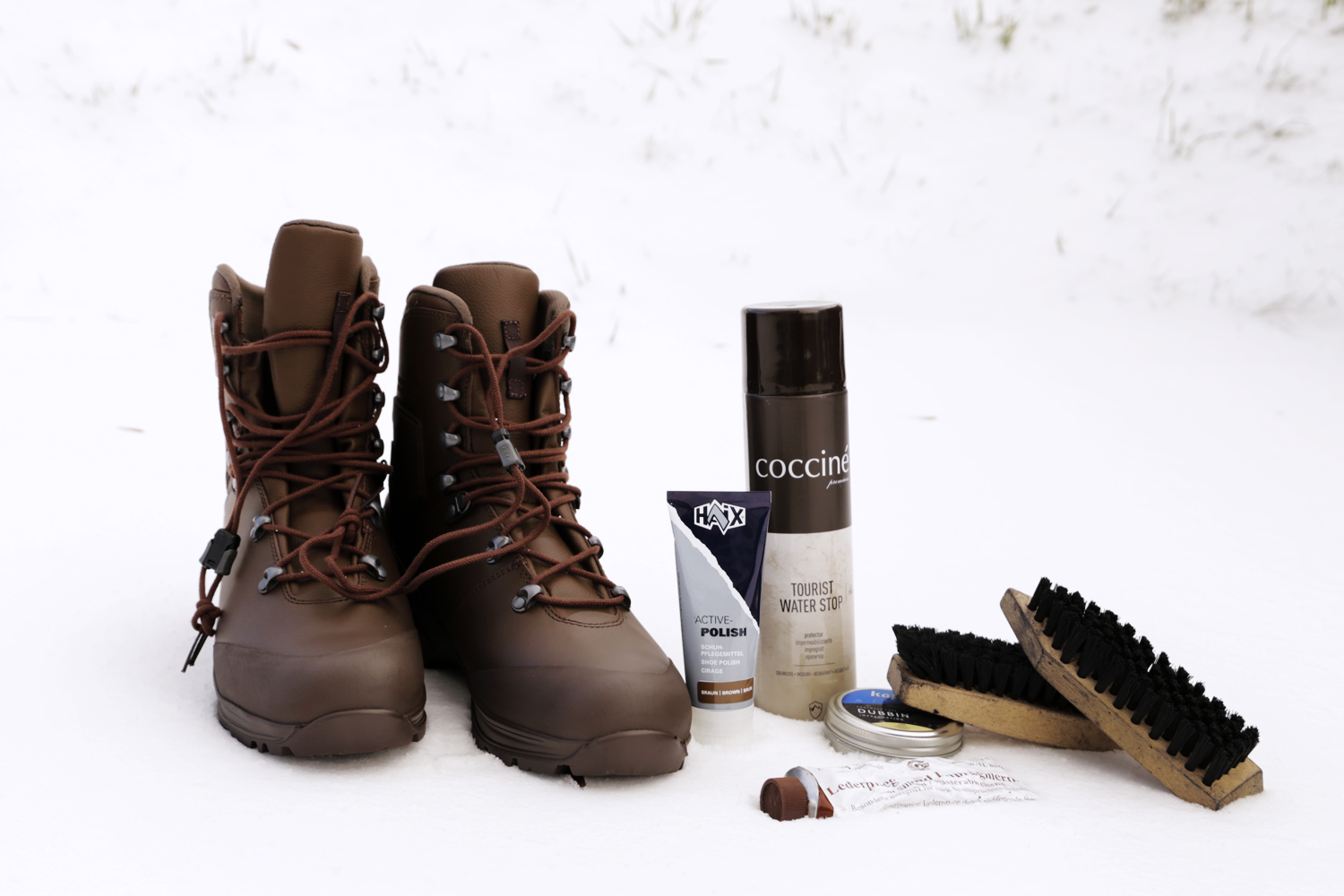 We have been in business for 17 years and know from experience that the biggest mistakes customers make are in caring for membrane products, thermal clothing and footwear. Irregularities are not always due to user ignorance, most often they are simply caused by overdoing :).
We'll start with the most popular commodity, the SHOES. Depending on the condition of the product purchased from our site, the product will have more or less visible signs of use. With proper care, their appearance will be significantly improved and leather will not be dry. Application of the right agent is very important, as waterproofness and vapor permeability depend on it. Variable weather conditions rain, mud, moisture, snow, salt, frost are not favourable to the flexibility of the leather, the lack of impregnation consequently results in cracking.
The most popular military footwear made of grain leather should be impregnated with the original Bundeswehr paste, which penetrates deep into the structure of the leather, nourishes and maintains it. The paste can be beeswax based. Leather shoes with a membrane should be impregnated with a product whose composition and formula ensures breathability, we suggest Haix paste. The preparation cannot block the pores located in the membrane - the use of improper paste results in excessive foot perspiration. The upper made of nubuck leather should be sprayed with silicone-based impregnators. Please note that the characteristic structure of nubuck requires a slightly different impregnation. Polishing the material with traditional paste will make it "smooth" and it will look like grain leather. Any footwear with a membrane needs to be cared for with a light paste, please pay attention to the markings on the tubes to maintain the properties.
Clothing in military stores undergoes standard disinfection processes. It is important to refresh/wash the purchased products by your own. Thermal and rainwear underwear require specific care before first use and afterwards to maintain their unique properties. Regular care of the garment is advisable to maintain ultimate wearing comfort. Do not use strong detergents and softeners to wash the products.
At the very beginning, read the tag if it is keeped. Clothes with membrane do not like too warm water, that's why it is usually recommended to wash them at 40°C or 30°C. Don't make your life difficult by washing them by hand - most of the clothes can be put into the washing machine :). However, products should not be ironed, bleached or soaked before washing. Larger dirt should be removed with a soaked, soft sponge. When washing your jacket or pants, use a liquid for outdoor clothing, preferably a special one for membranes. We give up on washing powders and liquids, when clothes "soften" they lose their properties. The washing machine program should have an appropriate low temperature and limited spin. Not too vigorous spinning will avoid creases. Clothing with a membrane should also be impreganted. There are several ways to waterproof a garment, but we recommend spraying with a silicone-based waterproofing agent while washing. Preparations available in spray form are also necessary when the exterior material begins to soak up water.
Thermal underwear should also only be washed in products designed for this purpose. Regular powder is too aggressive and will damage the delicate fibers. The fillers in it also reduce the breathability of the fabric. If you do not have a dedicated liquid for washing thermal clothes at home, you can use a delicate powder designed for washing clothes of little children or in grey soap. Typically, thermal underwear can be washed by hand or in a washing machine. All necessary information can be found on the tag. Used stuff sometimes doesn't have it anymore, so simply hand washing is a better choice :). No thermal garments should be bleached, tumble dried or ironed.