CZY TERMOS OBIADOWY JEST PRAKTYCZNY?
2023-09-13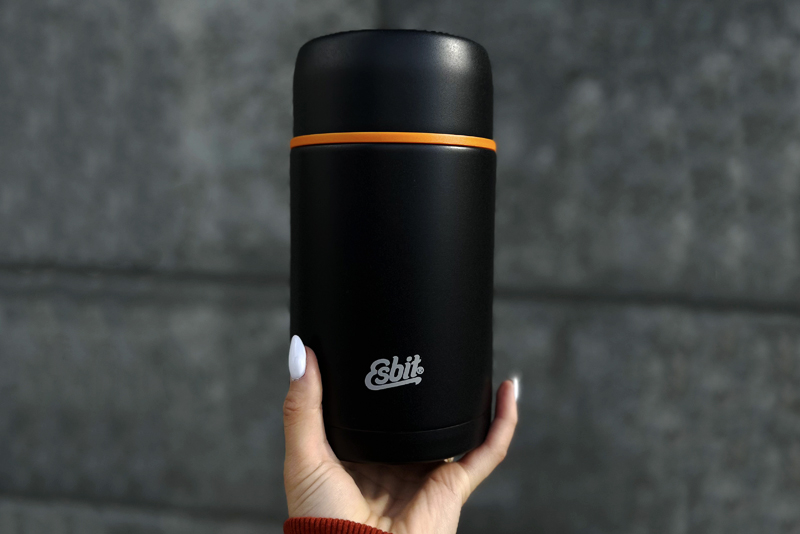 Termos na obiad czy zupę to bardzo przydatne akcesorium dla osób zabieganych, które często przebywają poza domem, uczniów oraz ludzi pracujących na zewnątrz. Ciepły, pełnowartościowy posiłek to zdecydowanie najlepsze rozwiązanie w pracy, szkole czy podróży.
Sprawdzone marki Primus i Esbit oferują szeroki przekrój termosów o rożnych pojemnościach i kolorach, dzięki czemu produkt może być również ciekawym gadżetem. Dobór wielkości powinien być indywidualny. W ofercie ArmyWorld.pl znajdują się termosy o pojemności od 400 do 1500 ml. Większe raczej dedykowane są dla mężczyzn, a mniejsze dla kobiet i dzieci. Pamiętaj, jeśli termos o pojemności 1litra zapełnisz 200 ml zupy to posiłek szybciej straci swoją temperaturę. Termosy dostępne są w różnych rozmiarach i kształtach, co pozwala dostosować je do indywidualnych potrzeb i preferencji. Ciesz się smacznym i ciepłym posiłkiem praktycznie w dowolnym miejscu i czasie.
Posiadanie termosu na obiad ma wile zalet oraz jest bardzo praktyczne w wielu sytuacjach. Termosy zostały zaprojektowane tak, aby utrzymać ciepło przez długi czas. Wysoką izolację zapewnia konstrukcja poróżniona oraz wykonanie ze stali nierdzewnej z podwójnymi ściankami. Często wykończone gumową powłoką lub matową farbą zapobiegają przypadkowym upadkom. Spore zakrętki mogą posłużyć jako dodatkowa miska do jedzenia. Przygotuj ciepły obiad w domu i zabierz go ze sobą do pracy, szkoły czy na wycieczkę. Ciesz się jedzeniem bez konieczności korzystania z mikrofalówki lub innych urządzeń do podgrzewania. Gotowanie w domu jest zazwyczaj tańsze i zdrowsze. 
Termosy na obiad są dostępne w różnych rozmiarach, co pozwala na przechowywanie zarówno zup, jak np. makaronu, ryżu czy mięsa. Większość modeli termosów wyposażona jest w zawór spustowy, który pozwala na uwolnienie zebranego ciśnienia w pojemniku, które przy gorącym posiłku zazwyczaj występuje. Warto podkreślić, aby utrzymać jak najdłużej ciepło posiłku należy je najpierw zalać gorącą wodę, następnie opróżnić i umieścić potrawę. Analogicznie z zimnym posiłkiem.
Zimne posiłki w lecie! Termosy nie tylko utrzymują ciepło, ale mogą również służyć do przechowywania zimnych posiłków latem. Możesz w nim przenosić sałatki, owoce, jogurty czy napoje chłodzące i cieszyć się smakiem potrawy w upale. Termos na obiad jest doskonały do zabrania ze sobą na piknik, wycieczkę rowerową czy spacer. Ciesz się ulubionym jedzeniem na świeżym powietrzu,  bez konieczności spożywania go od razu.
Do spożywania posiłku w terenie może przydać się niezbędnik/ spork lub inne akcesoria. Zerknij czy czegoś Ci nie brakuje!
Co zyskujemy zabierając ze sobą posiłek w termosie?
Oszczędność pieniędzy - nie kupujesz gotowych posiłków na mieście czy w restauracjach,
Oszczędność czasu - dostęp do ciepłego posiłku o każdej porze w pracy, szkole czy podczas wyprawy,
Zdrowe posiłki - posiłki spełniają Twoje preferencje żywieniowe, 
Redukcja odpadów - mniej jednorazowych plastikowych opakowań i woreczków, co jest przyjazne dla środowiska,
Wygoda w podróży - nie przerywasz podróży, aby zjeść posiłek.